Ah, Shwag
I've been doing the whole conference thing for a while. Not as long as some but quite a while. Along the way I've collected quite a bit of stuff. I've also given away most of it to the local user group too.
Little Things
I always keep a few little things like ducks and note books.

I also keep a few of the drink-ware items too.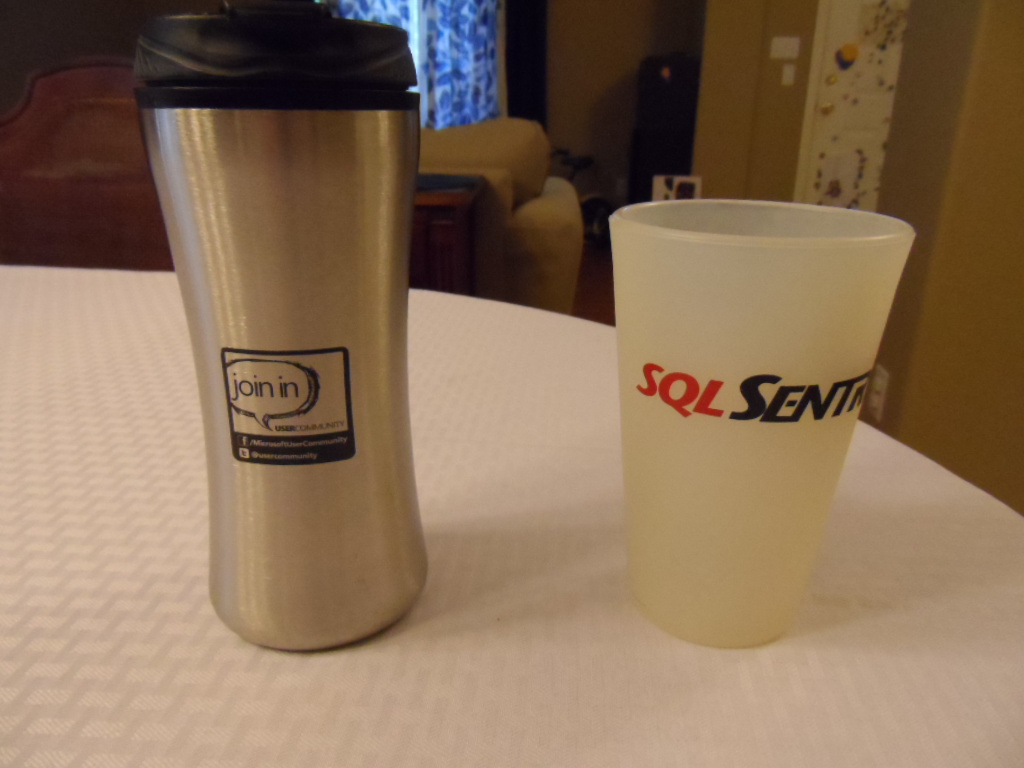 Wearable Stuff
Oh the humanity, the amount of clothing I have from conferences is just crazy. I give away quite a bit but always try to keep one shirt or item from everywhere I go.

Carry All Your Stuff
With all those shirts I need all these bags to carry them! I've kept some of the bags I've been given over the years. My two favorite are the Idera bag I got from the ACE program (which I carry right now) and the SQL Pass summit 2003 bag, which gave up the ghost two years ago when all the stitching for the bottom finally gave way.

Valuable Stuff
In 2004-05 when Microsoft REALLY loved SQL Server they were giving away crazy amounts of software. I gave away over one hundred copies of SQL Server 2005 Developer edition and around a dozen Windows 2003 Enterprise and SQL Server 2005 Standard edition copies too.

Special Stuff, Never To Come Again
I also had the privilege of attending the last great launch event for SQL Server 2005 in San Francisco.
Found This in my drink:

Oh, more software!

Ok, I'm impressed now.

Lastly,
The greatest thing I get from each and every one of these events is meeting people like you! See you at the PASS Summit.